Guaranteed HP UEFI Password removal! If we weren't able to unlock your HP laptop with the free Laptop BIOS Master Password Generator, do not despair, there is a definite HP laptop UEFI password removal solution available.
Yes, you can have your computer back fully functional with our guaranteed HP UEFI Password removal service!
This service requires personal attention from a real person, so we do need to charge for their time & effort. But $40 to restore your precious laptop is easy to justify, especially when we guarantee success or your money back! Return your locked laptop to fully-functioning with our simple HP UEFI Password Removal Service.
All you need is:
* ID details from your password-protected HP laptop – press F1 on boot to view this: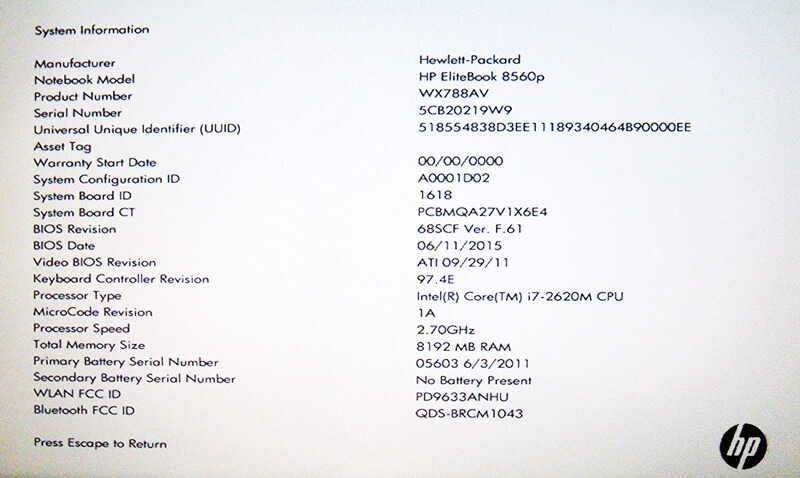 * 4GB USB drive (partition a larger one if you don't have 4GB size)
* Access to a working Windows computer
* About 10 minutes
Within 24 hours you'll receive an email containing the password reset file & instructions on how to complete the simple UEFI password removal process. Live support via WhatsApp is available during the process, helping to ensure your success.
Please fill out the form carefully as the fix we provide is machine-specific, so 1 incorrect detail will render the provided solution irrelevant. Please check your input before submitting. We also advise uploading an F1 details screenshot as surety.
_______________________________________________________________________________________________________________

HP UEFI Password Removal Service Is guaranteed to work on all ZBook, Envy, EliteBook, Pavilion, ProBook, Stream, Omen, Stream, Chromebook, Spectre models & more, EXCEPT X360 and X2.