iCloud Account Removal Service
Yes, an actual, real iCloud Account Removal Service from a source you can trust.
iCloud, in its' best-known Find My iPhone (FMI) lockdown guise, is really not much more than an indirect revenue generator for Apple Inc. The vital missing function that would turn it into a device retrieval service – a locator beacon which triggered an alert in real time to the previously-activated iCloud account if there was no graceful deactivation (ie: DFU wipe) flies in the face of Apple's primary business objective – revenue gathering. Why give your iPhone back when you're obviously going to need a new one?
We think that's a cynical trick by Apple, one that has worked incredibly well. Apple, fuck you. Introducing the…
Actual Real iCloud Account Removal Service…
Elegant, hassle-free, simple, effective & permanent – a perfect solution
The dreaded Activation Lock page, as seen on the iPhone X on the left, is sent there by the Apple Activation server that has checked your IMEI number against the FMI database.  Finding a match, the Activation Lock page is generated, requiring log-in by the previous account holder. *sigh*
The iCloud Account Removal Service removes the existing details directly from Apple's FMI database, enabling you to enter your own Apple ID information & set up the iPhone to your personal preferences. No tricky iCloud Bypass "solution" – this is a clean & simple permanent fix.
Best of all, there's almost zero interaction required from you. Because this method clears the iCloud @ Apple, you simply restart the device & follow the activation procedure. How easy is that? Too easy.
NB: This service is offered on the condition that the iPhone being cleared is not registered as Lost or Stolen – as indicated by the Activation lock screens below: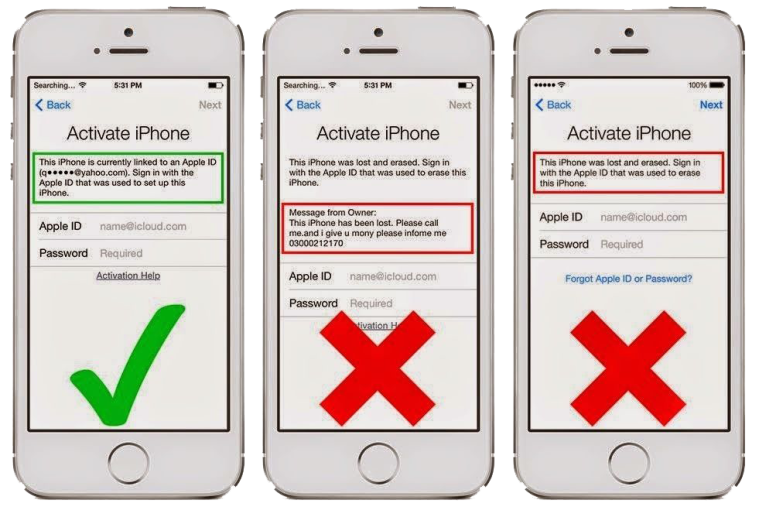 If your iCloud-locked device has any Activate iPhone screen other than the far left example, DO NOT purchase this service, it's not for you. The far left example is referred to as FMI Status: Clean, & that's the only FMI Status this service is designed for. Sorry, no refunds issued for incorrect FMI submissions.
Because this is a remote iCloud Account Removal Service, all you need to do is enter your device IMEI in the form below. Then sit back & relax as this service can take up to 6 days to complete – usually just 2-3 days though.
Where do I find my IMEI? Here's Apple's guide.
What about an online FMI status checker? Usually that's a paid service. Use this one for free.
We will email you upon completion, all you do is connect your device to WiFi or iTunes on your computer & follow the setup process through.
This service has been personally tried & tested by us on several iPhone models, it works 100% & is covered by our famous Satisfaction Guarantee – it's why our motto is "People Buy With Confidence From Megabyte"