An Actual Real iCloud Removal Service from a source you can trust.
While iCloud is, to a point, an anti-theft deterrent, its main purpose is an income driver for Apple. iCloud makes it almost impossible for a finder to either return your lost handset or to restore it to useful life, whilst also making it very tricky for you to actually Find My iPhone.  Result? Useless hardware littering the world & another iPhone sold. Apple taking an opportunity to generate more income? Surprise, surprise.
For almost as long as iCloud has existed, there's been online rip-off merchants claiming to be able to remove iCloud – with absolutely no intention of providing any service whatsoever. Check a leading example here. Pro Tip: If they use "official" in their name, they aren't.
Anyway, to cut a long story short, instead of littering the planet, iCloud-locked devices can now be genuinely unlocked. We guarantee it. Unlock or money back.
Actual Real iCloud Account Removal Service…

Elegant, hassle-free, simple, effective & permanent – a perfect solution
An essential step during iPhone set up is Activation. That's when the iPhone sends its IMEI information to Apple for checking.
The dreaded Activation Lock page is returned by the Apple Activation server that has checked the IMEI number against the iCloud database & found a match. The Activation Lock page is then generated, requiring log-in by the previous account holder. (Whose contact details are not displayed) sigh
iCloud Account Removal – How We Do It
The iCloud Account Removal Service removes the existing details directly from Apple's iCloud database, enabling you to set up the iPhone to your personal preferences. This is a  permanent fix. Best of all, there's almost zero interaction required from you. Because this method does the iCloud Account Removal @ Apple HQ, so you simply restart the device & follow the standard iPhone activation procedure. Too easy.
NB: This service is offered on the condition that the iPhone being cleared is not registered as Lost or Stolen – as indicated by the Activation lock screens below: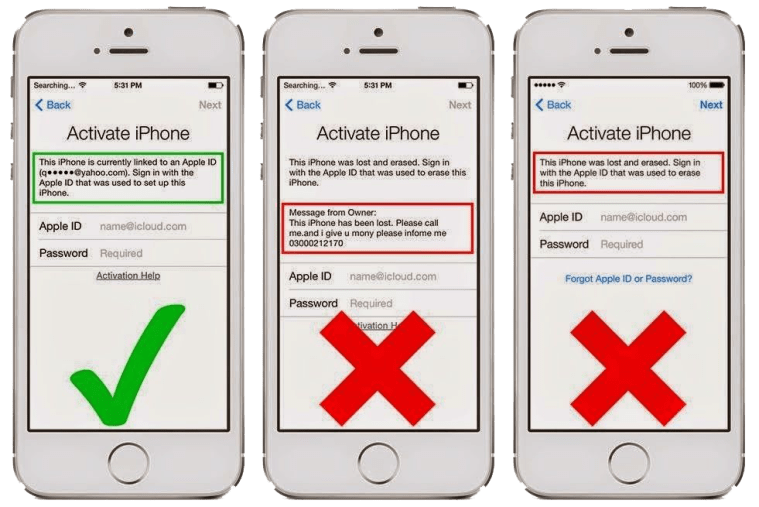 If your iCloud-locked device has any Activate iPhone screen other than the far left example, DO NOT purchase this service, it's not for you. Submitted Lost / Stolen IMEI are subject to a $50 processing fee.

Elaine was excited to learn that her iCloud-locked devices could finally be cleaned.
Make double sure of your status with a free online confirmation here.  Enter your IMEI number, press Show Info. The response required is this:
iCloud status: Clean
iCloud status: Clean means your iPhone is only a day away from freedom.  All you need to do is enter your device IMEI in the form below, then sit back & relax as this service takes 24 hours to complete – weekends a little longer.
Where do I find my IMEI? Here's Apple's guide.
We will email you upon completion, your device is now ready for activation.
This service has been personally tried & tested by 1024kb.co.nz staff on dozens of iPhones from 6 to XS Max. The system works 100% & is covered by our famous Satisfaction Guarantee – it's why our motto is "People Buy With Confidence From Megabyte"
NB: Please check your input, submitted Lost / Stolen IMEI are subject to a $50 processing fee.
iPhone Model
iPhone 6S, 6S+ $110.00
iPhone 7, 7+ $145.00
iPhone 8 $165.00
iPhone 8+, X $190.00
iPhone XR, XS, XS Max $215.00
iPhone IMEI (15 digit)