I recently completed a build your own NAS project for Face TV. It was quick, easy, inexpensive & very effective. Read on…
Yup, dear old Face TV (Sky channel 083), so dependent on technology yet stuck in an industry with rapidly-decreasing income streams. As a charitable Public Access broadcaster, they've always helped out the little guy – trouble is, little guy has a little wallet too. Apart from money, Face TV is great. The spirit that pervades this cult broadcaster & video production house is infectious. Most people I know would have walked away long ago, pushing trundlers in a supermarket carpark would be at least equally financially rewarding. Instead, the Face TV staff live for the joy of seeing their creations go on air, the triumph of their presenters hired by a major network & the pleasure of a job well done.
Severe budget-constraints do not make great friends with constantly-evolving technology requirements. Sad but true. Face TV is an excellent example of making do with what you've got for as long as possible, maximising the value of your investment. Great for accountants, absolutely hopeless for IT consultants (like me, for example).
Because I appreciate what they do, because Face TV has been good to me, and because I genuinely like Face TV chairman, NZ broadcasting & entertainment legend Gerard Smith, I occasionally contribute to Face TV without charging for labour. They pay cost price for any hardware, the time I spend there is repaid by referral business – which I always say is the best kind of business. sigh
About 3 years ago they invested in a small D-Link NAS box, filled with 4 x 4TB hard drives. 16TB of centralised disk space (video production is storage intensive) proved a very sensible solution, replacing a multitude of identical USB drives attached to individual computers.  I set the NAS up as network drives on each computer, so everyone shares & accesses the files from a central point. That 16TB soon got filled though – to the point of dangerously over-full. I'd been talking to Gerard about the urgent requirement for another NAS box for months, but even $1500 wasn't available.
A video production house stressing their only data storage device made me nervous, failure would be catastrophic for them. I really pushed this issue, knowing that should either of the 2 x 8TB RAID-0 arrays on the existing NAS fail, that I'd be called upon to recover their vital Premiere Pro data – & it wouldn't be an easy task, RAID-0 recovery never is.
Face TV does have a few older PCs that are no longer in use, the newest of which is around 5-years old. So, after being blanked again for a pre-owned dedicated NAS that, with drives, would have cost almost $1k, the thought occurred to me – recycle, re-purpose, reuse. I dialled Chairman Smith & told him that we could, in the Kiwi tradition,  build our own NAS basically from junk out the back. Gerard, bless his soul, had no idea what I was on about but figured it was all good for him & invited me to the studio to do this thing.
Truthfully, it was my first time attempting this. It's not a major task though, a commercial NAS is just a low-powered PC running a customised open-source OS. How hard could it be? &, more importantly, what could possibly go wrong? Well, if I didn't get a solution in place PDQ, lots could go wrong. If you know  your way around computers then building a NAS box, even for the first time, is not a difficult ask. The main requirement is confidence.
With some help from transmission controller Salvin Narayan, I grabbed an old PC box with no side panels attached that had a HP mini-ATX board fitted with a 3rd generation i5 &  scrounged up 16GB RAM. Hard drives of various speed & capacity litter the Face TV storage cupboard – from an old IBM server RAID array we pulled a 160GB 10k rpm drive to use as the boot disk, then hunted out the largest of all the other HDD's we could find, ending up with 1 x 4TB & 2 x 2TB drives to use as the NAS storage. The mni-ATX board only has 4 SATA ports, I'll add a PCI-e SATA card in the near future.
600w was a plenty big enough PSU, on-board graphics is all you need because NAS are  designed as headless systems – no screen attached, you'll access the GUI via network from another computer. Installation is the only exception to the headless operation, you're in standalone mode then. So, the build your own NAS project hardware was complete.

I asked Duckduckgo.com (I have all but abandoned Google Search) for "Best Free NAS Operating System" & spent 30 minutes checking out the reviews & support forums for the various offerings. FreeNAS was an easy choice – a customised BSD distro available as fully installed product in several forms, from high-speed, high-capacity mission-critical server to the FreeNAS mini for small business / home use, or a free build your own NAS download of the OS.
When an open-source product grows to support a successful commercial enterprise, you know that the product is quality – that was the final recommendation I needed.  FreeNAS 11.2 is not a big download, at 100MB/s on Face TV's fibre line, the 640MB .iso arrived within 2 minutes. Rufus, my choice of bootable USB creator, put the .iso on a 4GB drive & we were ready to do the software bit. Build your own NAS, here we come!
FreeNAS is a single-purpose distro, so the installation is very straight forward. Fire it up, select your boot drive, confirm & that's all. In a few minutes you're ready to go. Post-install, the system presents the screen below. Considering there is no other choice, select FreeNAS default, then pull the monitor, mouse & keyboard off – you're finished interacting directly with the box. Stash that box somewhere safe – it's designed not to ever be switched off or physically interacted with again (upgrades excepted) so put it somewhere out of harm's way, making sure the power arrives via UPS.
Now grab a device with local network access, open a browser (I recommend Brave) & go to https://freenas.local where the easy-to-understand web interface is waiting for you. Select your storage drives then configure them into suitable volumes – I put the 2 x 2TB drives into a single 4TB RAID-0 volume & left the other 4TB drive as is – presenting 2 x 4TB storage spaces to the network. Set up your User Groups, then add the users. Now choose from the multitude of other options available until your FreeNAS is just the way you want it.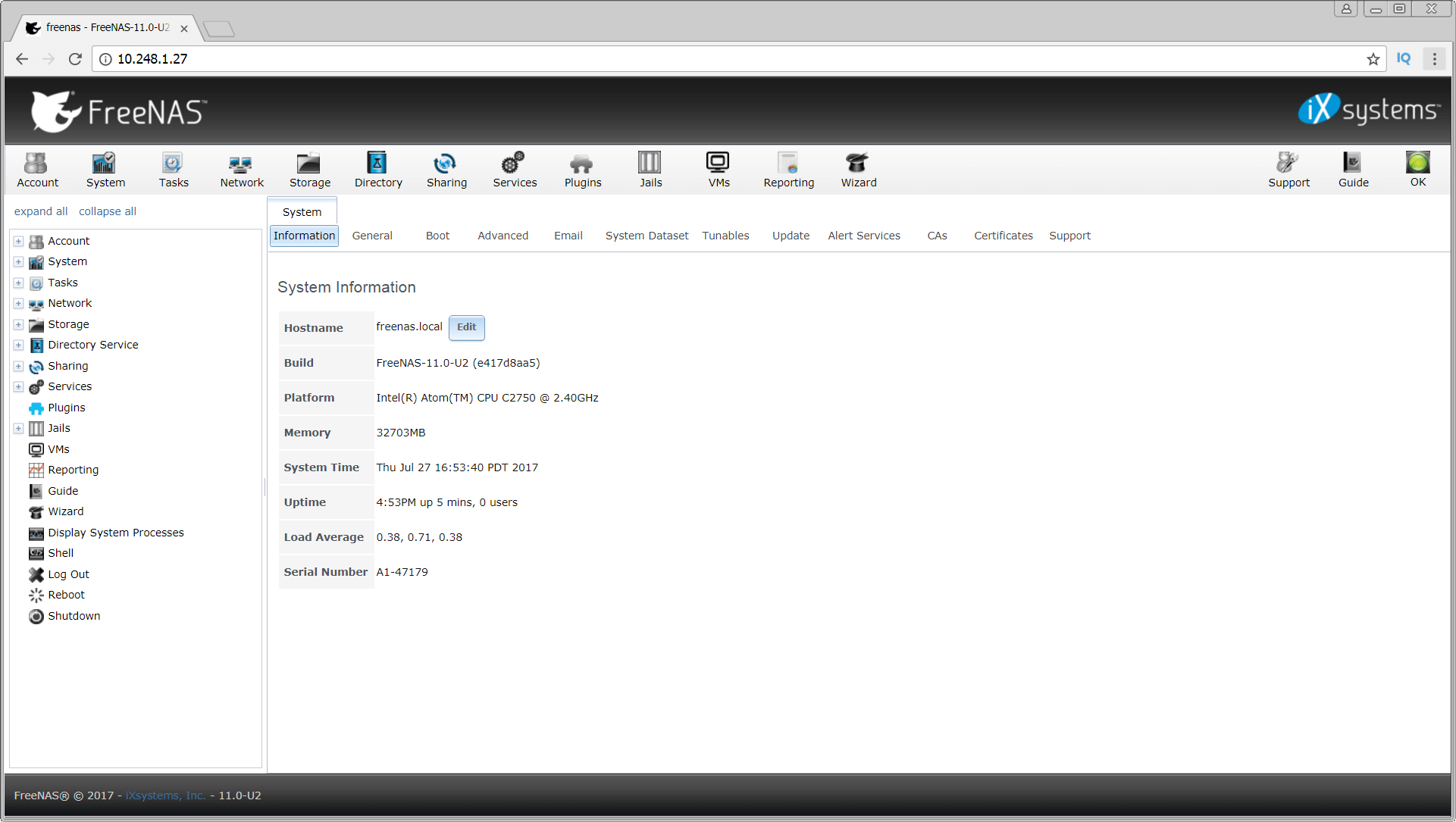 FreeNAS supports a variety of plug-ins such as the Plex media server, Transmission for torrents, various streaming utilities, file managers & other useful programs. For this project – pure data storage – I didn't need any, thank you though, it was nice of you to offer.
FreeNAS is complete in itself, packed with configuration options to suit any likely NAS requirement – 12 categories of options encompassing every use I could think of. Reporting is substantial – whichever performance parameter interests you can presented across all relevant timeframes.
Just two hours after I'd begun this project, I was connecting the in-house PC's to their new Network drives. Where we had 16TB of stressed storage, now we had 24TB with 9.5TB free.
Of course I did a quick performance comparison, my home-made from EOL parts FreeNAS vs the existing D-Link box.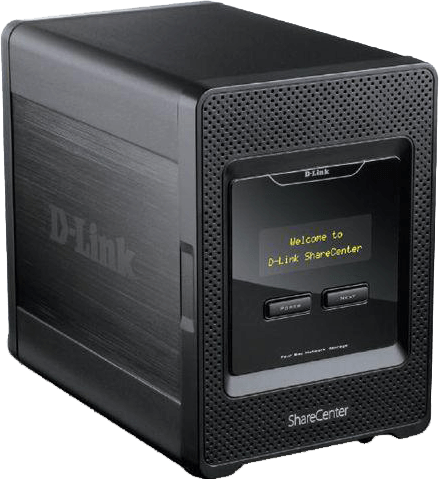 vs 
The D-Link was never touted as a high-speed solution, but it was still satisfying to see that we were able to write 4GB test files to the FreeNAS box at close to double the speed of the D-Link ShareCenter (95MB/s vs 55MB/s) – this from a very basic hardware kit, the HP motherboard was originally sold in a basic computer intended for word processing & not much more.
Adding 2 PCI-e riser cards –  a SATA extender & a dedicated network processor will let us triple the storage capacity & access it even faster. Those two items though, cost money & Face TV has none so we shall see. What we have got right now is a robust, powerful & extensible build your own NAS created from nothing more than junk PC parts & a couple of hours work. That's gotta be a win.