Yep, that's right 'droid fans, it's time to celebrate your geeky addiction to hacking handsets with the release of Cyanogenmod Android 7 ROMs for many phones & tablets (more models every day). Just like they have done before, Cyanogenmod brings you the very latest Android goodness long before your manufacturer does.
Following Android 6's code name Marshmallow, Android 7 is Nougat. In Cyanogenmod reference, CM 13 is Marshmallow, CM 14 is Nougat.
Now unless you've got a highly conscientious manufacturer or a new Google Pixel phone, there's very little chance you've already got Nougat installed – to check, go Apps / Settings / About Device / Software Info / Android Version.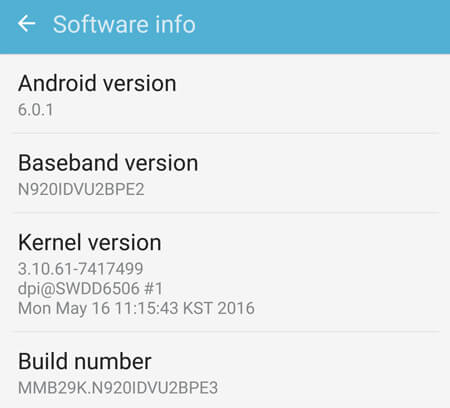 (Screengrab from a Note 5 I'm working on tonight.)
Nearly all of us aren't going to see the number 7 listed there. Cyanogenmod offers you the opportunity to install Nougat & get yourself that Android Version 7, to enjoy the latest advances in the world's most popular operating system – & you don't need to be using a late model handset.
Android 7 updates are available for the Galaxy S3, for example, which Samsung abandoned at Android 4.4. Thanks to Cyanogenmod, owners of S3 & similar spec hardware can get their OS security right up to date.
Not only will you get the OS security advantages offered by updating to Nougat, but also the usual CM features – better reception, longer battery life, no bloatware, full app control, optional Google account, root access & more.
Not every handset is covered, & many later models aren't included – yet. Cyanogenmod doesn't offer a ROM for SM-G930, the Galaxy S6 for example. They've long provided for S5, I highly recommend CM ROM to any S5 user.
The list of official releases is available by manufacturer here (add #SAMSUNG to the url in your browser address bar to go straight to Samsung, #MOTOROLA for Motorola etc.)
Most installers will need a fresh download of GApps for Nougat. Choose your package (tiny Pico through to select your choice of any/every Google App Aroma) here.
Before you flash CM (or any custom ROM), you'll need to install a TWRP touch-enabled recovery. TWRP is a highly recommended modification for any Android phone, if only for the ability to backup & restore your phone fully or partially. TWRP also allows Systemless Root installation – root user abilities without triggering Samsung's too fussy Knox fuse (triggering Knox voids warranties.)
Cyanogenmod cuts your device free from OEM bloatware & allows optional Google ID implementation – there are other app stores in the Android ecosystem. Expect a wide range of performance improvements & enhancements with CM 14, but I recommend taking a pragmatic approach –
!. Install TWRP recovery
2. Boot into TWRP, backup your entire current installation to an external location
3. Now wipe your phone clean – System & all
4. Install CM 14
5. Restore your Data partition from the backup
6. Install GApps – updating the older GApps that have just been restored
7. Reboot.
Any fuck ups are negated by the full backup you did. (You did backup, didn't you?) If your handset doesn't install sweetly, simply restore your previous system.
Be patient, the system needs to bed in, it may take fully 10 minutes to finish it's initial post-install boot. Once it's booted, start exploring & enjoying the very latest Android Operating System.
CM 14 users – please leave a note below, tell us how your experience of Nougat has been.