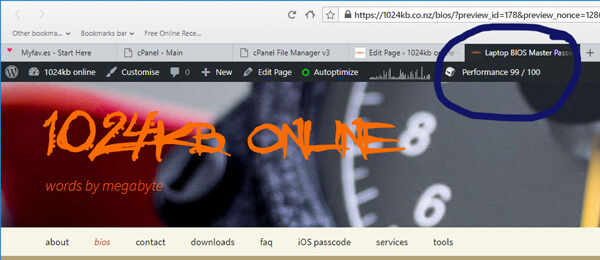 That Performance score was given by W3 Total Cache, the go-to standard-setting performance plugin for WordPress, the world's most popular website framework. With over 1 million current installations, I'll accept their judgement as authoritative. Understandably, I'm pleased with the result – it's hard to get much better.
It wasn't all my work that got this website there though, and it wasn't always like that either. After receiving a report from both Yandex & Google that my web server was responding too slowly, I pulled a waterfall report on GTMetrix.com which shows the time elapsed for each element on my front page here @1024kb.co.nz. It didn't make for pretty reading: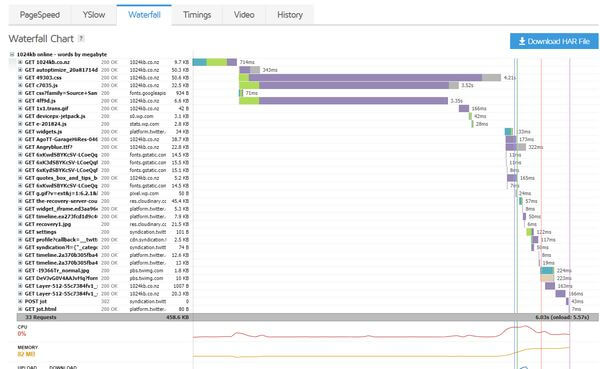 The actual coding score – represented by the PageSpeed & YSlow numbers below – wasn't too shabby but the server was dragging it's ass real bad, indicated by the purple bars – 6 seconds to load my front page? That's not good, really not good @ all. 

But I don't own the web server, I merely rent a wee bit of storage & bandwidth from the owner/operator. What was I going to do?
Web hosting is one of those barely-understood products, for a number of justifiable reasons. A service that provides a service, presented as a physical computer but highly likely not (see why already?) & even if it was, you'll never see the actual machine anyway. We all know Windows, 95% of web servers run on Linux.
There's also a whole new world of variable parameters most of us have never heard of, often dependent on another parameter setting to perform optimally. It all adds up to a tangled mess that just feels like too much investment to learn to understand. Yet Web Hosting is an essential purchase for almost every business & an increasing number of individuals.
Many web host decisions are made on the web designer's recommendation, & because the website owner doesn't know which statistics are important (so long as the price is reasonable) the purchase gets made. Hmmm, taking a web-geeks first recommendation for what's about to become the foundation for your public-facing business statement. What could possibly go wrong? Plenty. As I thought I'd just found out.
Luckily I'd made a considered decision when purchasing my web hosting services. The initial option of buying from a high-profile but faceless corporation selling a layer of another faceless corporation's services just didn't appeal.  Sure, they might have market share in their industry but so does McDonald's & I don't eat there.
The better option, I decided, was the boutique route. Find a local company, deeply passionate about their industry, committed to achieving success – partner up with them & go along for the ride as they get bigger & better. I researched the limited marketplace until I found a company that ticked all the boxes.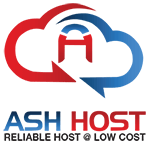 Ashhost is a subsidiary of Ashnet, a 100% NZ owned IT company. They're internally funded, the profits from their existing operations get prudently funnelled back into the business, so they can provide more services on their own terms. From a single Internet cafe in 2002, Ashnet now has a chain of cafes &  provides computer repair, hardware sales, IT support, residential & commercial broadband, VOIP, and, of course, web hosting.
Not only did they supply the level of service & quality I was looking for, their pricing is also very competitive. I signed up in 2012 & hadn't considered ever considered changing suppliers. Until the debacle above unfolded.
Typically, there's not a lot a small website operator can do to influence their web host. They make their money by having multiple sites hosted – one noisy owner isn't much to worry about. But Megabyte, he thought he'd give it a go anyway. Because I'd hate to die wondering, you know?
I fired off an email containing the YSlow result to the company – not just [email protected], I went straight for the top – [email protected] It was late – about 10.30 pm. I vented a little but was straight to the point – this ain't good enough, now what are you going to do about it? I soon found out because before midnight (yes, not even 90 minutes later!) I'd received a personal response from the owner saying he'd just conducted a few tests himself & would attend to the issue as quickly as possible. Wow! A tech company with customer service like that? Unbelievable.
The next day around 11 am he sent me a photo of him & a staff member inside the server farm on Queen Street, Auckland City. Around 3 pm I was asked to check the performance again. This time GT Metrix reported much better numbers:

The all-important load time was a full 3.5 seconds quicker, well within acceptable boundaries. After checking the W3 Total Cache report shown above, I could relax again.
None of this improvement would have been possible without the wonderful service & commitment to excellence that Ash & his team @ Ashnet have. With such a determination to provide superior products & services, that company is destined for further success.
They deliver a full suite of web host services to international clients. Because of the outstanding way that they looked after me & 1024kb.co.nz, I recommend that anybody in the market for web host services should choose Ashhost.co.nz
NB: This article complies with my disclaimer, I am not incentivised to write this post, nor are my links affiliate commissioned.