Save $$$ On All Mac Hardware!!
Yup, you heard it here first, Megabyte announces the unofficial Apple sale with substantial savings on all Mac hardware!!
iPhone 6, was from $999, now $869 – save $130!!
iPad Air 2, 64GB WiFi – was $949, now $781 – save $168!!
iMac with Retina 5K display – was $3699, now $3169 – save $530!!
MacBook Pro 15″, i7, Retina Display – was $3499, now $3169 – save $330!!
Mac Pro, 6-Core and Dual GPU – was $5999, now $5699 – save $300!!
All Mac hardware is available now @ Megabyte's unofficial Apple sale. Purchase your brand new Apple hardware direct from Apple, delivered direct from Apple, pay only the heavily discounted price.
T's & C's: To take advantage of this offer, you need to order here, check your pricing in $NZD here to confirm your savings then order & pay in $AUD, requesting delivery in New Zealand.
It all comes about because Apple don't fluctuate their prices to allow for currency movements, they operate on a "Set & Forget" basis, and the Kiwi $ has moved to a post-float all-time high of 95c/$1. So there's now a price variation worth taking advantage of, those few hundreds are better off in your pocket than anyone else's! Or you could upgrade a 16GB iPhone 6 to the 64GB version ($NZ1149 retail vs $NZ1053 sale price) for free – and still save almost $100. That's definitely worth doing.
That iPad Air 2 spec shown above is the very same as Megabyte's own recent purchase – a saving of almost 20% is available there. (Luckily for Megabyte, very special currency movements allowed his iPad to cost <$NZ600 brand new.) There are some anomalies in the two market's retail pricing – in Australia the iMac 5K & 15″ MacBook Pro are both $AUD2999, here there's a $200 variation between the MBP $NZD3499 and iMac @ $3699. So the MacBook Pro has a smaller than could be expected saving. There is however, a great saving to be had on the little-known but excellent Thunderbolt Display, which drops from a hefty $NZD1649 to much more palatable $1265 – almost $400 off for just about the best damn monitor there is.
But wait, that's not all! There's more!! Economists popular predictions have the hard mineral-based Australian economy diving further in the coming months and the far smaller, dairy-based NZ economy at least holding steady if not improving. What this means is that dollar parity is a definite possibility in the near future and the unofficial Mac sale is likely to offer even bigger savings than those illustrated above.
NZ pricing for MacBook Air:


Australian pricing & current conversion rate: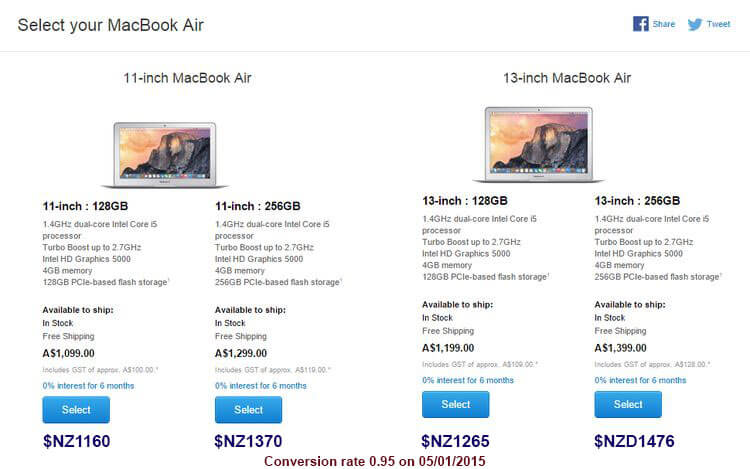 Now, before all the sour-faced pessimists leap into action decrying this post – there's no negative impact on the local economy by purchasing through the Australian website, in both cases you're spending your money with Apple USA. Even if you purchased from a bricks & mortar Mac retailer, they are given wafer-thin profit margins only – more like a handling fee than true retail mark-up. So no loss there. The only loss incurred is by Apple, and that loss is all retained locally, in NZ wallets and bank accounts.
Similarly, Apple have an international warranty policy. Should your Mac suffer mechanical failure, it does not matter where in the world you are. Find the nearest Apple store, take your broken machine there. So purchasing through the Australian version of Apple.com wont affect your warranty entitlements. Yes indeed, Megabyte's unofficial Apple Mac hardware sale in association with 1024kb.co.nz is all good all the way.