If you need your Laptop BIOS Password Reset, then you've come to the right place. Our Laptop BIOS Master Password Generator reveals the password for many popular laptops. Not all laptops are vulnerable but many are – give it a try, it's free.
Achieve Laptop BIOS Password Reset on late model HP, Compaq, Dell, Alienware, LG, Lenovo, Sony, Vaio, Samsung, Acer, Asus, Lenovo & Fujitsu & more brand name laptops with the Laptop BIOS Master Password Generator!
Those manufacturers listed above – your BIOS is brake. All your password are belong to us. (Well, nearly all.)
8-digit BIOS provided by Insyde H20 (Lenovo, HP) and 5-digit Phoenix BIOS are also pwnd by the Laptop BIOS Master Password Generator.
Seen this before? Bios-locked & password lost, that's what that screen indicates.  But the System Disabled code displayed can often be decrypted to reveal the BIOS password. (The BIOS Master Password for this 2020 model HP Spectre x360 is 45670218 )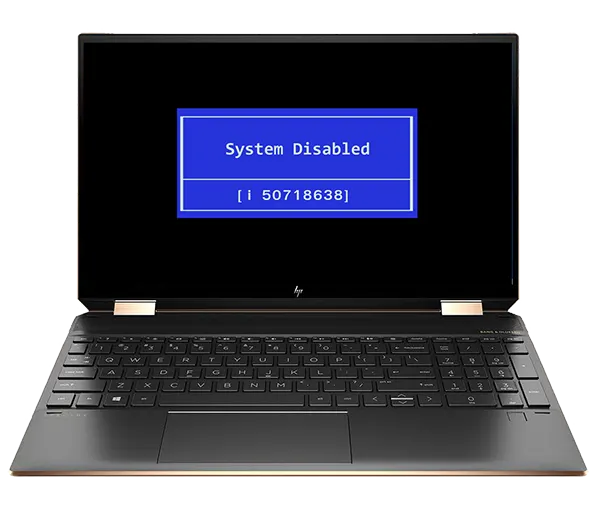 When you open a laptop & find yourself faced with the immediate black BIOS password screen & absolutely no idea of what password you used, all you gotta do is come to the Laptop BIOS Master Password Generator @ 1024kb.co.nz.
Many HP/Compaq, Alienware, LG, Dell, Lenovo, Sony, Samsung, Acer, Asus, Lenovo or Fujitsu laptop BIOS passwords can be revealed, instantly & for free.
Anyway, whichever BIOS-locked laptop you have, grab the Machine ID Code – sometimes called the Service Tag, Challenge Code or Response Code – usually displayed after submitting a few (3-5) incorrect codes – that's the unique identifier we need.
Pay special attention when reading the code, be careful not to confuse lower L with upper i (l or I), zero & upper o (O or 0) – if your input is not exact, the response will not be correct & your laptop will not open.
Now enter that carefully-copied challenge code into the box below then hit the Crack It button…. Ka-ching!!
No surveys to fill out, no pop-under pR0n adverts, just pure goodness & quite likely your Laptop BIOS Master Password too.
When you've done your Laptop BIOS Master Password Reset, please leave a comment, send a tweet, or do whatever peeps do on Facebook to tell the wwworld about your win….
Enter Your Code:

Here, try this:
*For Dell - Type password then hold Left Ctrl & press Enter twice.
Priority Service
Mikrovr
wrote some of the keygens employed on this page. He monitors the
Comments
section, responding to requests & providing personalised solutions to your password problem. 
Put simply, Mikrovr's voluntary service here turns locked junk into functioning laptops. You can easily value his input, it's a lot more than nothing. Working for free is just not a sustainable model, & we do want to retain his contributions. So I've introduced a PayPal Donation system to ensure he can continue delivering BIOS Master Passwords on request.
If you want your password request given priority attention, hit the PayPal button. Quote your PayPal transaction number to open your request.
No donation will attract an equal service – none. If the free generator does not solve your problem, $5 will.
NB: Dell -E7A8 solution is available from Mikrovr.  There are 3 variations that require specific machine calculation.  This extra effort is time-consuming but does result in correct password generation.  If your request is for -E7A8 password, please make a $25 donation.
Dell –8FC8 is not yet solved, we are working on this problem. There is no point posting your –8FC8 challenge code until we have found the successful algorithm.  
Resellers & commercial users with multiple requests – one password per donation.
All funds received go direct to Mikrovr, the donations are 100% for his services.