I've written about the excellent 3rd-party iDevice manager iTools previously (see my post fkn iTunes!)  While always useful, development has drifted over the years since this so-handy-it's-essential utility was released.
Updates have been pretty much limited to minor enhancements & constant updates to cope with Apple's spiteful attempts at blocking iTools functions most times we get an iOS update. (Apple change the on-iDevice file access protocols – unnecessarily really.)
This is not a complaint – I'm a dedicated iTools-using veteran, what iTools provides us is much mo' betta functionality than the bloated, overbearing & authoritarian iTunes mothership. (That you no longer need installed, iTools will download & install the required supporting iTunes components.)
I didn't expect program development to sit still forever – iTools is too good a concept for that. The authors have actually launched a few more powerful versions over the years – Chinese language only though. Stink. From today though, there is no more cultural delineation – an extended iTools Pro in English has just been released, yes! Branded iTools 3, I'm playing testing it connected to the 1024kb iPad Air 2 as I write this post.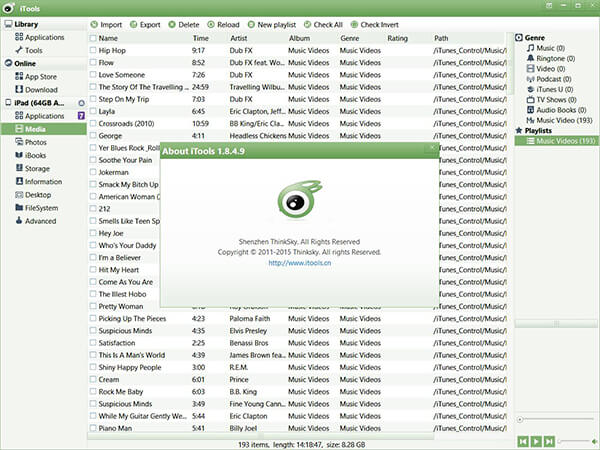 Version 1.8.4.9 iTools GUI compared to Version 3.1.8.0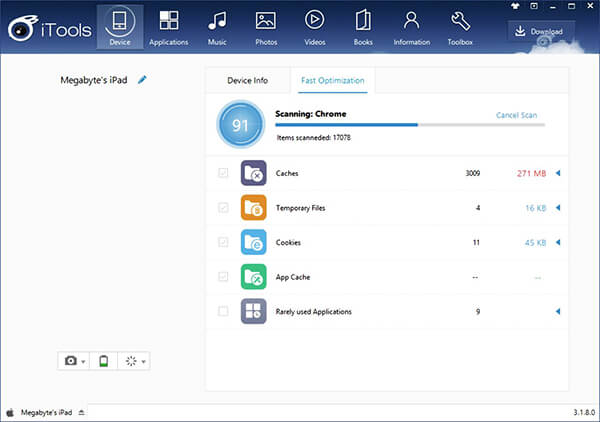 You, if you cannot wait til you've read my review (which is bound to be highly informative if maybe somewhat opinionated) can get download it here. The GUI, as you can see, is restyled and there's plenty of new functions.  First up – cos it's on the home page – is Fast Optimization, which lets you selectively clear your app caches – previously you had to clear all app caches or, if you wanted to save just one or two, go into each individual app & clear the build up manually.
This new iTools method saves time & effort while freeing your iPad/iPhone/iPod of useless junk. Of course the hordes of iTunes sufferers out there cannot clean their app caches at all, eventually choking their storage capacity. "Cleverly", this leads said iTunes user back to the Apple Store where their update purchase is NOT the entry-level 16GB option this time, but the 64GB model. (16GB iPhone 6's are a vanity purchase, spending most of their life on public display.)
A desktop widget has also appeared, displaying battery charge & possible optimisations. I don't think I'll be keeping that on display permanently, it's repeated data only. Nothing new there. Nice enough for fanboiz to show off with I suppose. But oh wow, as I delve into this new iTools, I'm finding some very useful stuff.  (While typing, I've auto-removed 5667 junk files, somehow improving my performance by 20%)
Data migration – connect a new iDevice & move your stuff from one to the other in a guided & managed environment – no more blind guesswork from Internet-obtained knowledge. (That bloody Internet – full of lies & pr0n)
Wireless connectivity – iTools don't need no cables to sort your iPod/iPad/iPhone – this could be a really cool trick. Especially while someone else is using it, heh heh.
Data migration – connect a new iDevice & move your stuff from one to the other in a guided & managed environment – no more blind guesswork from Internet-obtained knowledge. (That bloody Internet – full of lies & pr0n)
File Explorer – you'll see deeper if your iDevice is jailbreaked. Especially useful for dropping licence files into (un)licenced apps.
Screen Capture – good for doing this: but not a lot more I fear.
Full Individual App management – clear data, update, backup (with or w/out app data), install, remove. The update function hijacks iTunes (I know!) to provide factory fresh .ipa updates.
Individual Photo, Movie, Book & Song management – add one or more files simply & easily.
On-Device metadata editing – for those tracks that iTunes stupidly thinks belong in another album of the same name. By the same artist. Been there? Fkn iTunes.
Super Backup & Super Restore – I haven't tried these yet but I will be backing up my iPad next.
iTunes Backup Restore – accesses existing iTunes backups & restores your device to an earlier time – like Marty McFly!
iCloud Photo Stream management – finally! How the fuck else do you do this? Select by month, Import, Export, Play Slideshow. Thank you iTools, very cool of you.
Portable Disk – Use your iDevice as a USB drive with simple drag & drop file management.
Device Desktop manipulation – create folders, shift icons, Intelligent Classify (it's not really that intelligent) organisation, Desktop Backup & Restore functions.
In-Place Firmware updater – upgrade your iOS version while retaining your files & settings. (This won't work with jailbreaks, it just plain can't) Or clean install – your choice.
Firmware Downloader – grabs those monstrous .ipsw files directly from Apple.
Download Manager – monitors & manages your .ipa update downloads.
Apple ID management – copes with multiple Apple IDs. (unlike fkn iTunes)
So there ya go – an extensive feature set in the latest iteration of Megabyte's favourite iDevice management utility – iTools.  Like most cool softs, iTools is freeeee!
PS: I notice, amongst other related software, iTools for Android available on the website, unfortunately it's Chinese language only. & because 'droid isn't a locked proprietary system, it's not so difficult to manage anyway. Still, I'm looking forward to the translated version.