The #1 most-published topic on this site is Signal Private Messenger. This week, Signal Private Messenger became the most downloaded app in the world. Coincidence? Well, yes, most likely. It's very doubtful that this site caused any public disturbance.

Still, we have history – check the archive here. We've been praising the privacy-centric app since way back in 2014 when what you know today as Signal Private Messenger was the SMS-based TextSecure. We've been advising readers to move their communications platform to one that delivers true private messaging since this site started 7 years ago. We celebrated when Cyanogenmod adopted TextSecure as their stock messaging app, & again when WhatsApp leased the Signal engine to provide their billion+ users with secure, private messaging. Google Duo followed as did other apps, albeit with their own take on the open-source Signal engine.
The insertion of the Signal encryption protocol was not what Facebook was expecting when they paid some $20+ dollars per WA user, their purchase justification was based on data mining – with Signal Private Messenger there is no data to mine.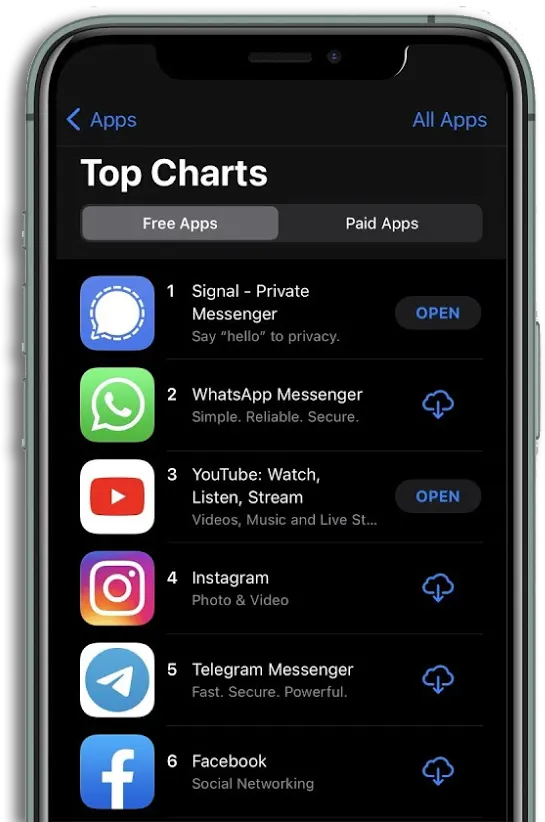 The WA founders have come to the end of their 2-year tail-out clause at Facebook, handing control of the world's most-popular communications app to the cardboard cutout personalities of FB. Immediately upon taking full possession of their $20bn baby, FB changed the TOS – giving them the right to mine your data to the max. They'll be reading & interpreting your private messages, selling your data & filling the WhatsApp screen with personalised revenue-driving advertising. **shudder**
The cool part of that story is that WA founding partner & privacy enthusiast Brian Acton contributed to Signal on his exit. Just like you or I can, he hit the Donate button – $US50m. To ensure that they don't go broke, he followed up with an interest-free long-term loan of $100m that he's not too worried about collecting on. There's more to that story by following his link.
The image above shows the result of that WA – FB data-gathering announcement as hordes of WA users abandon Facebook's biggest purchase in favour of the small but perfectly-formed Signal Private Messenger. That's not just #1 on Google Play, but also #1 on Apple's App Store too. Signal Private Messenger didn't just top the geolocation charts but worldwide, and not just top of the communication apps, but most downloaded of all apps. Like, hit it out of the park popularity.
Here's what a Signal encrypted message looks like:
O83bIgEKIQWtBfqx7sBT6sOcHf/1tNhLPSGNDw63mefq4nJX+kisTxADGAAiP/lLFqYoKGzR1W+TpVfDEbQJCC7wK6DUSTx0ThBD29e6QRZaA3cj6I6IuOVeGhEKqBJKA3MGuJSkMSP5QN9trONw8Kw9LxyY
That's a single word encrypted by the TextSecure SMS incarnation of Signal that I captured while examining the app so that I could be sure of it's abilities. Anybody capable of decrypting? Post your answer in the comments below.
The real message here, apart from celebrating the David & Goliath alike analogy, is to encourage you to get Signal Private Messenger the new #1 communications app worldwide. Available for Android, iOS mobiles plus PC, Mac & Linux desktops.