Free HEVC Codec for Windows 11
High Efficiency Video Coding, aka HEVC or H.265, is the new/current standard for compressing video. Kinda like MP4 on steroids, HEVC enables video in situations where it previously wouldn't fit, as well as high-quality streaming on low-end broadband plans.The majority of video content produced worldwide is encoded with HEVC. There's only one problem with this – It's not easy finding a free HEVC Codec for Windows 11.
We're gonna solve it today.
When you go to play an HEVC encoded video on a shiny new Windows 11 PC, you're going to get a pop-up that reminds us of when Steve Ballmer ran the company, lurching from fuck-up to fuck-up – imagine having Kin & Zune on your resume, let alone IE6 plus overseeing the largest shareholder wealth destruction in history – when Microsoft was almost universally despised by users & developers alike.
You'll see either the incredibly obtuse version:
Or the common-sense cash-grab model: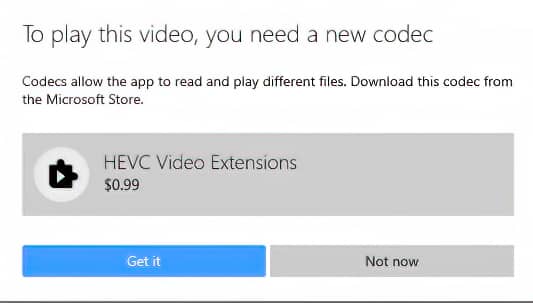 The blast from the past pop-up informs you that there's a fee required to access the HEVC codec for Win 11 – the Microsoft store kindly offers a selection of varying priced codecs / extensions / whatever. Uh huh, that's right folks – your media playing capabilities are yet again being restricted by Microsoft. Surprise!!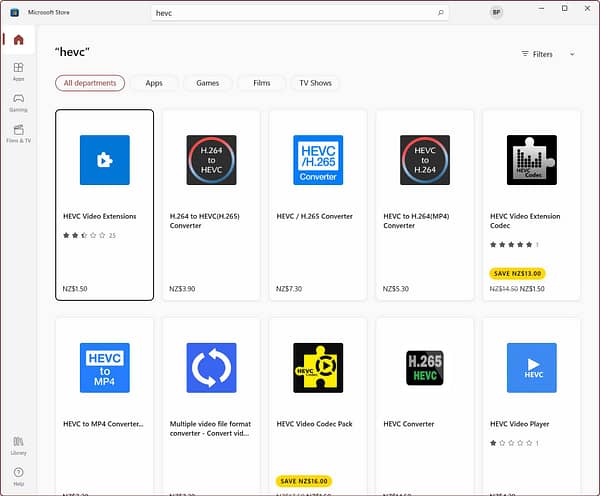 It's a safe bet that Microsoft loses far more than $1.50 worth of goodwill from every single Windows user that sees the HEVC pop-up then begrudgingly pays out.  I guess having a near monopoly let you get away with arrogance like that. 
Lucky for us Microsoft has always been hopeless at file security – so as usual there's a simple workaround. Oh, and one of them is delivered by Microsoft from their stupid Microsoft Store thing too.
It's not the money going to Microsoft that concerns me – I can afford $1.50. But we weren't told when we purchased our shiny new PC that it won't play modern video.
I'm sure that given the choice, we'd all prefer to pay $1501.49 for our new Ultrabook with codec pre-installed than $1499 for a non-video capable PC.  History tells me that Holden sold far more Kingswoods than Belmonts.
Nor were we told, when we upgraded our trusty & reliable Win 10 installs for Win 11,  that 11 is all good so long as you don't watch video.
First solution (3rd Party)  –
VLC player has always & will always play every media file. Download VLC from the official site for free & be happy forever.
VLC (Video Lan Component) is the gold standard in video playback & offers a lot more functionality under the hood too. It's my recommended media player for all devices.
Second solution (Microsoft themselves) –
ms-windows-store://pdp/?ProductId=9n4wgh0z6vhq
Copy that URL above. Open a new browser tab. Right-click in the address bar & choose Paste & Go – Microsoft Store will open with the HEVC codec download for free. As it should be. Because they do have it there, free for the having – they just don't want to admit it.
Really, there's no excuse for not having HEVC Codec pre-installed in Windows 11.
There you go, 1024kb.co.nz has just saved you $1.50.