I was recently updating an iPhone 6 for its new owner.  A full wipe & DFU restore is the best option there, so that's what I did. iOS 9.3 had just been released so the operation took time, 1.9GB downloads being what they are – even over my 100/100MB/s UFB connection.
Leaving iTunes running in the background I got busy on some other tricky & urgent task – the exact nature of which slips my mind right at this instant. But it took a while, I know that. After half an hour or more I dropped my working window to see that the install had failed & the iPhone could still be rebooted to its original configuration. sigh
Back into DFU, hold Shift & click on Restore, select the IPSW file…. waiting, waiting, waiting, I got busy again. When I came back to the laptop, the situation hasn't changed. So I update iTunes & start again.
This shouldn't be an issue, it's a straightforward operation. Correction – used to be a a straightforward operation, because once again, failure. Dammit. Except this time I'd hung around & got to see the error response. 4005. So a-Googling we shall go.
Oh noes! A 40xx error!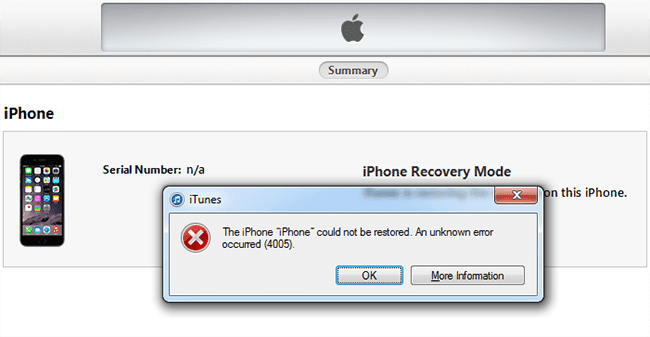 iPads get them too! Oh noes!


Not just an English language error, Cyrillic too. This is getting serious.


The 40xx error codes are a collection of nefarious, namby-pamby excuses that basically all say "try again, update iTunes & try again, try another computer, bring it to the Apple store' without ever offering any in-depth, useful problem-solving advice. This range of errors seems to exist somewhere in the murky zones between software & hardware – or, my suspicion is that even Apple hasn't really got a clue what causes these issues.
Online forums had all sorts of weird & wonderful solutions – most of which were reported back as being fails. Various posters claiming to be voices of authority said that logic board replacement was the only option. (Fuck off mate, if I bring it out of DFU it works like an iPhone should, we just want to give it a clean install)
Then I thought back to a few weeks ago, to a random Windows 10 problem with what seemed like a totally unrelated solution that I posted about here. And thought to myself "Hmmm, I wonder if…" So I pressed Winkey + R, typed services.msc then scrolled down to Windows Firewall & turned it on. (I run Eset Security Suite so Windows Firewall is usually redundant)
& yup, sure enough, this time the iTunes restore process was both quick & successful. This may not work for your version of the 40xx errors, they're a wide & varied bunch of problem indicators. But worked on an iPhone 6 for me.
Did this simple solution work for you? Please take a minute to post a quick comment & let me know.