I decided that it was time to contribute to Signal for the service they provide – by dropping some cash in their collection tray. I've written about Signal more than any other subject on this blog – so I'm putting my money where my mouth is.
Signal, the privacy-protecting app that more & more people are insisting upon for telecommunication is, always has been, & always will be, free. As such it breaks the common rule "If you get something for free, then it's worth to you is nothing." In the case of Signal, what's your liberty worth? It's worth more than you could pay out today, that;s for sure!
Although free & open-source, Signal does have running costs & a transparent voluntary funding model – one that I used to express my gratitude to Moxie & the contributing community recently see proofs below: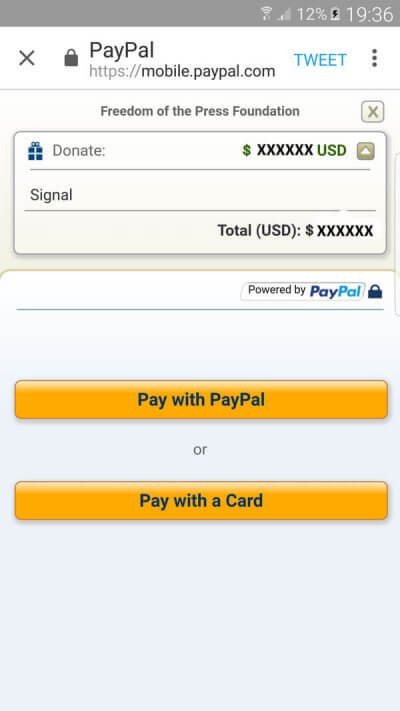 Modesty & privacy justify the use of Photoshop to disguise the amount of my donation, but it was a quick & easy process. Their funding model is transparent, putting your donation into a pool that pays out to contributing coders. So your donation directly encourages & rewards those that put in cryptographic expertise to help protect your personal privacy.
Donations are received and managed by Freedom Of The Press Foundation, an organisation that uses crowdfunding, digital security, and internet advocacy to support journalists & whistleblowers worldwide.
Freedom Of The Press provide several specific funds – including the Signal fund. Donations can be made by Credit Card, Bitcoin or, as I did, PayPal. I don't know of any better investment you could make to ensure our present & future commuinication security. I'm proud I contributed & I'll do it again too.
The real purpose of this post is to encourage you to contribute to Signal also. You can do that by clicking here. Then please hit the Comments button below, make it known that you too value the work that WhisperSystems do in providing Signal for us to use.
If aren't yet a Signal user. here's the links: